Welcome to our new-look website!
Im very pleased to finally announce the launch of WP-Answers 3.0 … It has taken us quite some time to get this new version ready, in fact we nearly launched it before but decided on a total re-write of all the plugin code and created a brand new theme from scratch. As you will see if you check out the demo, the new theme is nice and clean with a responsive design which means it will work on mobiles and tablets equally as well as on desktops – to see this, resize your browser while the theme is loaded up.
New Features
As I said, everything has been re-written from scratch and we now use custom post types for questions, instead of using normal posts – that means your sites can now have a regular blog along side the question and answer section. Another feature that was requested many times was the ability to use the plugin with any theme without relying on our default theme, we have added this so you can now add a Question and Answer section to any existing site.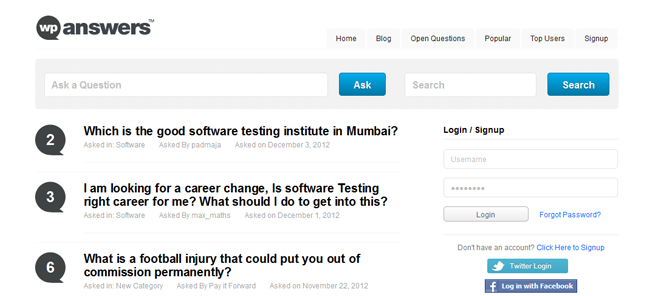 Another big complaint was the plugin needed some spam protection built-in, as WP-Answers grew and became a well-known theme (it is used on tens of thousands of sites) the spammers began to target these sites specifically. To counter this, we have now built-in support for reCaptcha by Google which is one of the best captcha solutions available. You will need to signup for an API key to use this with your sites. It is enabled from the new admin panel and can be used at signup and on question submission – the two points we need to stop automated spam. Of course, it is still possible for someone to signup by hand and place their links manually so you will still have to monitor questions being asked, or moderate them first.

All old and new features are now contained in our brand new admin panel. It has a similar layout to the old one but everything is now contained within one panel (rather than 2) and is a lot cleaner and easier to use.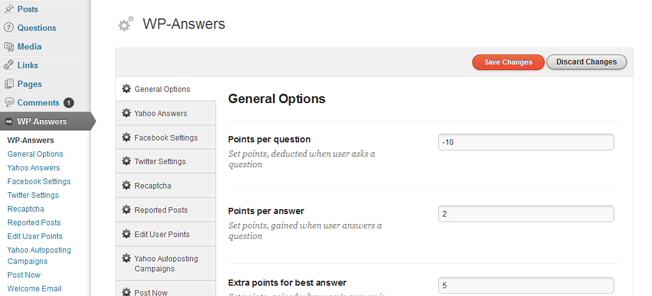 Support and Documentation
After you have downloaded the version 3.0, unzip it and you will see a readme file which has details of our new support system. It also includes a documentation folder with newly written instructions on how to use the new features. Please read through this before updating your installations.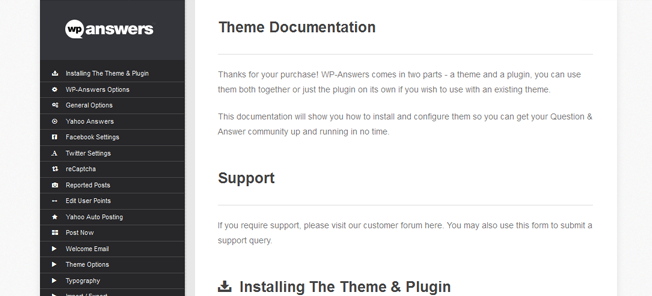 Upgrade Information
Before upgrading to 3.0 please make sure you take a complete backup of your site including the database incase anything goes wrong.
Unfortunately, because the theme has been re-written from scratch – you will lose any customisations to your theme if you install the new version, so please bare that in mind.
To upgrade, delete the old plugin and theme and upload the new ones – and activate them both.
As I mentioned before, we have used a custom post type for questions now – rather than using normal posts so you can use it along side a regular blog so if you want to use this new version on an existing site, you will need to convert the posts over to the new post type which is called "Questions" you can use this free plugin called Post Type Switcher. You can use this to bulk edit your posts to convert them to Questions.